Easy GIS .NET Desktop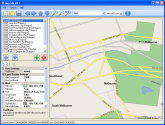 Easy GIS .NET Desktop Edition is a .NET Shapefile library and GIS mapping application. The software is free and you can include the Easy GIS .NET controls in your own commercial .NET desktop applications.
Download (6.4MB)
Features
Includes .NET Shapefile Control and .NET Shapefile reader
Supports Point, PointZ, PolyLine, PolyLineZ, PolyLineM, Polygon, PolygonZ, MultiPoint and MultiPointZ
Projection support
Low memory footprint
Extremely fast rendering speed
Designed for opening and rendering very large shapefiles
Edit or create shapefiles from .NET applications
Easy GIS .NET Web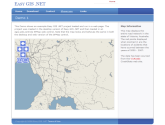 Easy GIS .NET Web is a collection of ASP .NET Mapping Web Controls for developers to add GIS map functionality to web sites, utilizing the same rendering components as the desktop version of Easy GIS .NET.
Download (6.4MB)
Features
Extremely fast rendering speed
Custom rendering support
ASP .NET Tiled Map Control
Load ShapeFiles in Google Maps
GeoJSON and Mapbox Vector Tile support.